Asia is rich, nuanced... and easily misunderstood. Kontinentalist's stories make Asia's data a talking point. We bridge the gap between research and the public.
Why Asia?
Asia is the world's largest and most populated continent. Its transformations and rapid growth are shaping the world today.
However, Asia is also shrouded in misconception—exotic to those who don't understand it. We talk about Asia on its terms here, unpacking taboo and controversy alike.
Cultures are complex, and raw data only gets at the surface of things. Kontinentalist aims to draw out Asia's subtleties with sensitivity, because the most important stories demand nuance and context.
+ people
languages
countries
Why data stories?
Data is everywhere, and it's never been more necessary today. We live in a world where people talk past one another, and data gives us common ground to start writing the stories we want to see in the world.
But data also gets a bad rep. Many people find data dry and confusing—and that's where the storytelling comes in. We use creative, immersive stories to make data simple, beautiful, and memorable.
Innovative
yet rigorous
storytelling
We believe story dictates form, not the other way round
We prefer slow thinking to chasing news cycles
We're transparent about where we get our data and how we handle it
We strive to move beyond today's digital storytelling techniques
We research and fact-check everything
We change our minds when new or better evidence emerges
How we make our stories
Data storytelling is interdisciplinary by nature. Our designers and developers play with ideas, and our writers code—often together!
Ideate
Our compass in a sea of information. We figure out a story's core, why it matters, and how to amplify its voice.
Write/Edit
We gather, curate, and make sense of the data, weaving a narrative grounded in facts and context.
Design
With prototyping and cutting-edge visual and interactive techniques, we draw out the data's key messages with sensitivity and clarity.
Build
We figure out the best way to present data insights on our platform, improving on current digital storytelling practices wherever we can.
Publish
It's showtime! We work with partners and experts to run the story on our platform and make sure it reaches the right audience.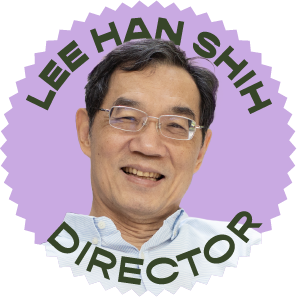 Lee Han Shih (Hans) is the founder of Kontinentalist and the Potato group, and was a teacher, a civil servant and a long-time correspondent with the Business Times. He is also a director of the Lee Foundation, which was founded by his grandfather.
Dear readers,
In 1953, North and South Korea agreed to a ceasefire and set the 38th Parallel as the demilitarisation zone (DMZ).
The Americans, backer of the South, chose the 38th based on a National Geographic "Asia and Adjacent Areas" map that gave little information on Korea, let alone the area surrounding the DMZ. Geographically and politically, the 38th was a lousy choice—Seoul, capital of the south, is only 50 km away and within striking range of missiles from the DMZ.
This led to many other bad decisions that have affected the lives of millions.
Our team
We're a rag-tag band of dreamers, tinkerers, and doers who collaborate on just about everything.
Get to know us
Glimpse the personalities behind Kontinentalist!
Get to know us better on Kawan!
Discover our super-secret (nah) data-storytelling techniques, what it's like to work here, and how we let our inner quirkiness run free.
Join our team
Passionate about data-driven visual stories that amplify Asian voices? Join our motley crew!